Operating system


Android Q(10)

CPU

64-Bit 8-Core Cortex-A53 1.5GHz

RAM

4GB

Capacity

64GB

Display

6.2" 800*480 Capacitive Touch Screen

Network

Wi-Fi

SD card

Two micro sd card slots

USB port

Two USB ports

Amplifier

Built-in 4*45W sound amplifier


Audio Output

Front left, Front right, Rear left, Rear right and Subwoofer

(RCA port)

Video Output



One video output

(RCA port)

Audio/Video Input

Left/Right audio and video input

(RCA port)

Camera Input


One camera input(RCA port)

Microphone
Internal

GPS receiver

Built-in GPS module and external GPS antenna
Aftermarket Navigation Player For Mercedes-Benz A/C/CLK/E/G/M/ML/SLK/S/Vaneo/Viano/Vito is specially designed to replace Mercedes-Benz standard radio system or navigation unit. It has the same harness and plug as original radio, totally plug and play when install. After install this new unit, you will get an intelligent entertainment system with Touchscreen/Navigation/FM/AM/USB/SD/WiFi/AUX-IN/Bluetooth phone call/Bluetooth music/DVD playback/DAB+(device is optional)/rear view camera(device is optional)/Apple CarPlay(device is optional)/TV(device is optional)/OBD(device is optional)/Google Play etc.
Vehicles Supported:
Mercedes-Benz A(W168) 1998,1999,2000,2001,2002
Mercedes-Benz C(W203) 2000,2001,2002,2003,2004,2005,2006
Mercedes-Benz CLK(C208/W208) 1996,1997,1998,1999,2000,2001,2002,2003,2004,2005,2006,2007,2008
Mercedes-Benz CLK(C209/W209) 1998, 1999,2000,2001,2002,2003,2004
Mercedes-Benz E(W210) 1998,1999,2001,2002
Mercedes-Benz G(W463) 1998,1999,2000,2001,2002,2003,2004
Mercedes-Benz M/ML(W163) 1998,1999,2000,2001,2002
Mercedes-Benz SLK(W170) 1998,1999,2000,2001,2002
Mercedes-Benz Vaneo 2002,2003,2004,2005
Mercedes-Benz Viano 2004,2005,2006
Mercedes-Benz Vito 2004,2005,2006
Note above year range is for your reference only. Send a photo of the dashboard(radio system) of your vehicle to sale@tereteknik.se to verify the fitness if you are not sure about fitness.
Attention:
NOTE the audio system on Mercedes-Benz is powered by a fiber optic (D2B/MOST) amplifier in the rear of the vehicle. Head units which are run by D2B/MOST will have a pair of orange plastic fiber-optic cables on the rear and no speaker outputs. The majority of cables such as speaker wires, power wires and the radio antenna are found in the rear of the car at the original amplifier. This means that to integrate this aftermarket unit with the car you must run an extension kit to the speaker/power wires in the rear. Installations requiring the extension are more time consuming than for cars that do not require it, however it is still relatively straight forward. The extension kit is optional, please add it from the drop-box. Check more info about the Extension cord for Mercedes-Benz aftermarket head unit Note that ONLY FOUR CAR SPEAKERS work after install this kit. Please acknowledge this before place the order.

Or you can also replace the factory amplifier audio system by an aftermarket amplifier system to keep all speakers work.
Factory radio FYI: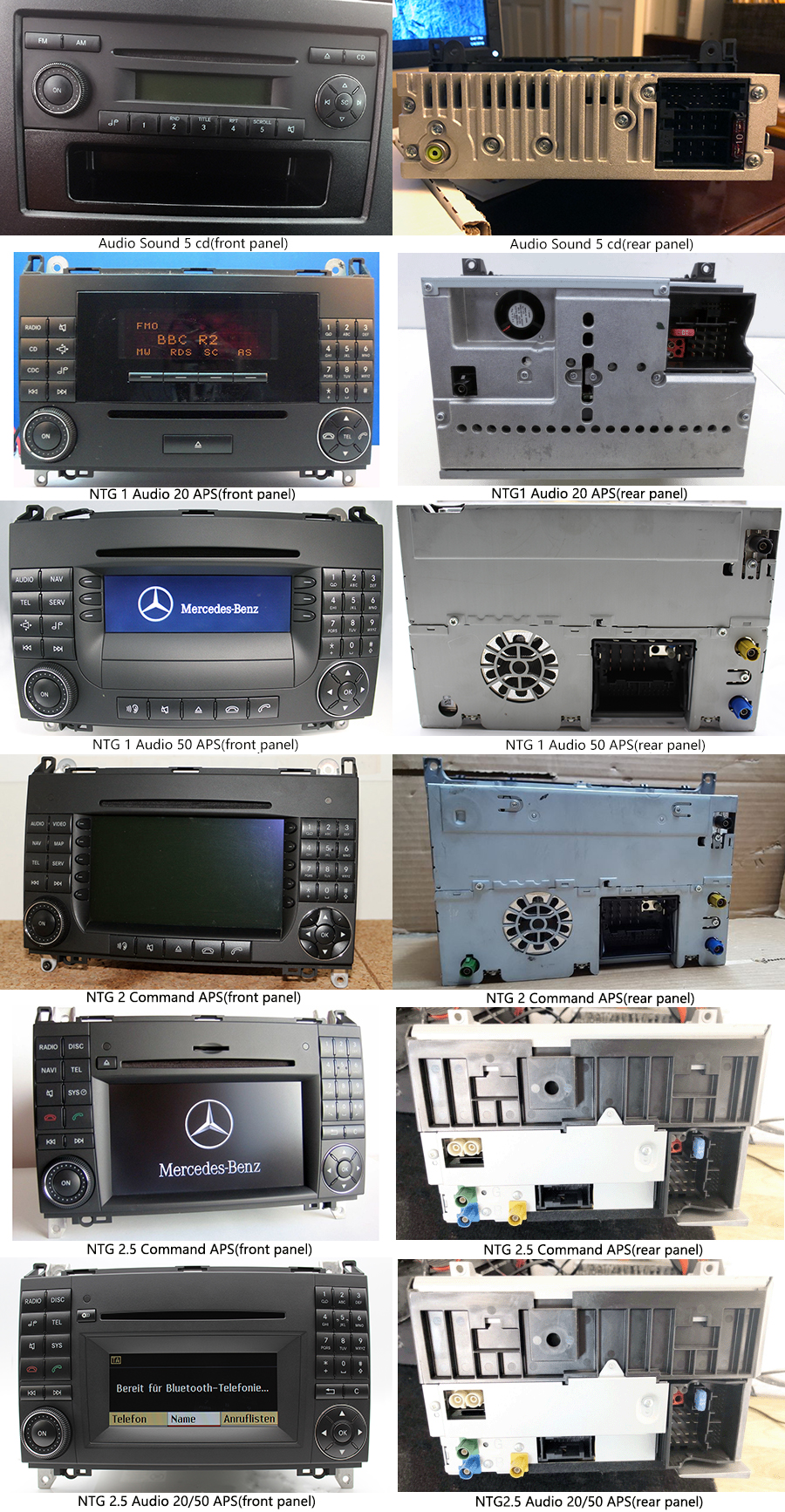 Mercedes-Benz A/C/CLK/E/G/M/ML/S Android Head Unit
6,495 SEK

5,995 SEK

Ex Tax:

4,796 SEK
Product Code: 8802
Availability:

In Stock