Hardware:
Operating system Android Pie(9)
CPU 64-Bit 8-Core Cortex-A53 1.5GHz
RAM 4GB
Capacity 32GB
Display 6.95" 800*480 Capacitive Touch Screen
Network Wi-Fi
SD card Two micro sd card slots
USB port Two USB ports
Amplifier Built-in 4*45W DSP sound amplifier
Audio Output Front left, Front right, Rear left, Rear right and Subwoofer(RCA port)
Video Output One video output(RCA port)
Audio/Video Input Left/Right Audio and video input(RCA port)
Camera Input One camera input(RCA port)
Microphone Internal & External
GPS receiver Built-in GPS module and external GPS antenna
Android OS Double Din Navigation head unit For Nissan. The same size, harness and connectors as factory radio, plug and play, no cutting wires. Supports factory steering wheel controls, wifi, mirror-link, SD/USB music/video, DVD playback, Bluetooth phone call and bluetooth music, backup camera(optional), DVR(optional), TV tuner(optional), AUX-IN port, Apple CarPlay(optional) and Android Auto(optional). Support Google map and preload offline map for your country so that you can use the navigaiton when there is no internet connection.
Compatibility:
Nissan Frontier 2001-2011
Nissan Juke 2010-2011
Nissan Livana 2006-2010
Nissan Micra/March 2002-2009
Nissan Navara 2001-2011
Nissan NP300 2001-2011
Nissan Paladin 2005-2011
Nissan Pathfinder 2005-2010
Nissan Patrol 2004-2010
Nissan Qashqai 2007-2011
Nissan Sentra/Sylphy 2007-2012
Nissan Sunny 2005-2007
Nissan Teana 2005-2009
Nissan Tiida 2004-2011
Nissan Treeano 2005-2010
Nissan Versa 2006-2011
Nissan X-trail 2001-2011
Nissan Xterra
Note above year range is for your reference only. Send a photo of the dashboard(radio system) to sale@tereteknik.se if you are not sure about fitness.
Attention:
The dimensions of this double din head unit is 178mm(L)* 100mm(H), please measure your stock radio system and make sure the size matches before ordering.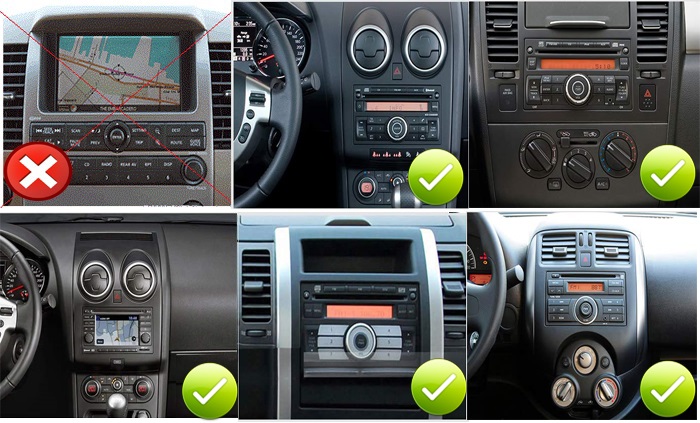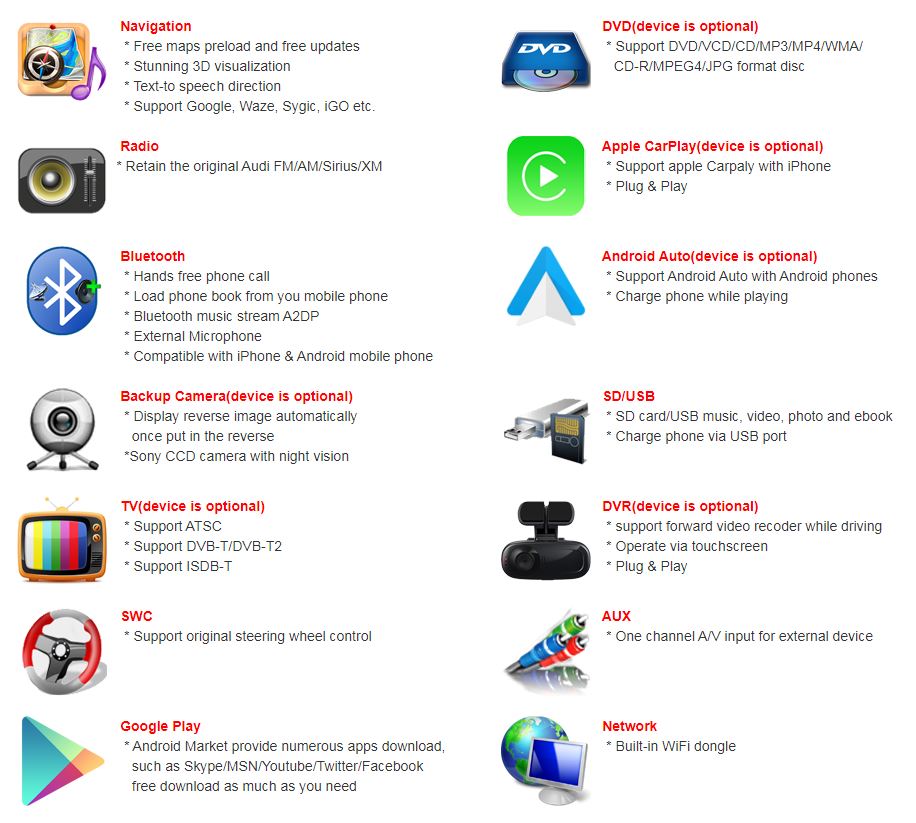 Nissan Qashqai, Navara, Pathfinder, X trail, Patrol, Juke Android Head Unit
4,995 SEK

Ex Tax:

4,995 SEK
Product Code: RL001
Availability:

In Stock
Related Products