GPS Navigation:
Built in GPS 3D map of the whole Europe with Norwegian, English, Polish and many other languages menu and voice.
IGO Primo pre-installed maps, which can be changed too, Does not require Internet, GPS Works via satellite.
Bluetooth A2DP:
Bluetooth supports Iphone, Android and others with bluetooth. handsfree
Music from phone via Bluetooth (Spotify and the others)
It can sync contact list from your mobile phone to the stereo, so you can call directly via touch screen of the stereo.
WIFI Built-in:
Since the player has android you can use the player as a tablet or mobile phone.
Download thousand of applications via Android PlayStore, sync everything and access everything you want. connect on the internet via built-in Wifi through mobile, or 4G modem (4G modem not included).
SD card and USB slot :
Memory card reader takes 32GB MicroSD cards and 32 GB USB can be used to play videos, movies, photos and MP3 music, All known file types supported.
Reversing camera:
RCA AV connector is available for automatic reversing camera functions.
Flash memory:
Built in 16GB hard drive to store videos, movies, mp3 songs, programs, etc, ready for 2D and 3D games
Screen resolution:
The player has digital touch screen with HD resolution 1024x600
Radio:
AM / FM with RDS, can store 99 stations with names.
3 Zone function:
Listen to the radio which in the GPS and see video at the backseat screens.
Steering wheel Control Support:
It supports steering wheel control and parking sensors, you do not need to do anything other than to connect the cables!
Equilizer:
DSP 3D audio processor with surround sound system, Change Bass, Treble, etc
Sound quality:
It has Built-amplifier 45x4 which means better sound quality than the original radio.
Compatibility:
TOYOTA RAV4

2006 - 2011
Note above year range is for your reference only. Send a photo of the dashboard(radio system) of your vehicle to sale@tereteknik.se if you are not sure about fitness.
Latest Android 9.0 Oreo New generation's fastest navigation device, fully equipped spectacular player for Toyota.
The player has Octa-8 core processor | 32GB hard drive | 4GB ram | BlueTooth version 4.1 | 9 "screen with 1920x1080p resolution | 45x4 watt amplifier | latest updated GPS map software.
Best model available in the market, 9 "large screen gives this a futuristic cinema feel in the car's interior. The player fits perfectly in the dashboard like the original on the Rav4 models.
The player is fully compatible with the car's data system, supports steering wheel steering, Supports original reverse / forward sensors.
You only need to connect contacts. Players do not require a code, extra adapter or frame.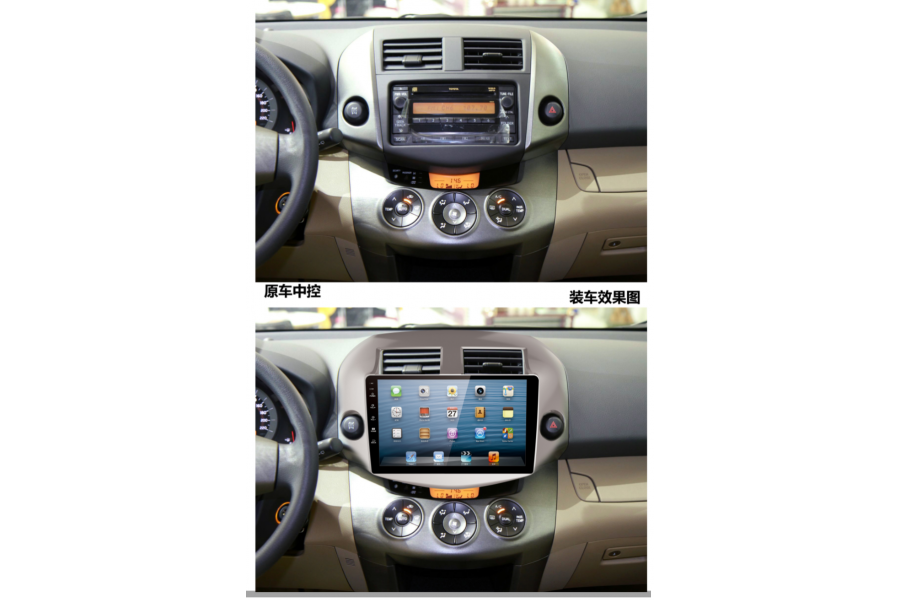 Toyota RAV4 2006-2011 Aftermarket Android Head Unit
5,995 SEK

Ex Tax:

5,995 SEK
Product Code: L5018
Availability:

In Stock